Panasonic Lumix DMC-GF1 Digital Camera Firmware (Ver.1.2) and Software Download for Microsoft Windows and Macintosh Operating Systems.
Panasonic DMC-GF1 Firmware Downloads
Operating System(s): Windows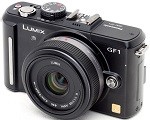 Panasonic DMC-GF1 Win Firmware- Download (3.84MB)
Operating System(s): Macintosh
Panasonic DMC-GF1 Mac Firmware – Download (3.77MB)
Description for Panasonic DMC-GF1 Firmware version 1.2: Improved operation menu for image stabilizer ([OFF] will be added under [STABILIZER] only when LUMIX G VARIO 14-42 mm / F3.5-5.6 ASPH. / MEGA O.I.S. (H-FS014042) is attached).Improved AF (auto focus) performance with lenses of other manufacturer.