Panasonic Lumix DMC-GF3 Digital Camera Firmware (Ver.1.2) and Software Download for Microsoft Windows and Macintosh Operating Systems.
Panasonic DMC-GF3 Firmware Downloads
Operating System(s): Windows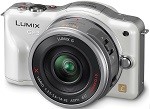 Panasonic DMC-GF3 Win Firmware- Download (15.06MB)
Operating System(s): Macintosh
Panasonic DMC-GF3 Mac Firmware – Download (15.11MB)
Description for Panasonic DMC-GF3 Firmware version 1.2: Added a function for using power zoom lens.([DISP FOCAL LENGTH], [STEP ZOOM], [ZOOM RESUME], [ZOOM SPEED], [ZOOM RING])(for ver 1.1.).Click here to notice page about firmware update.Optimized the operation of Four Thirds Lens with coupled with mount adapter at Ver.1.1.