Panasonic Lumix DMC-L1 Digital Camera Firmware (Ver.2.1) and Software Download for Microsoft Windows and Macintosh Operating Systems.
Panasonic DMC-L1 Firmware Downloads
Operating System(s):Windows 8 and 8.1, Windows 7, Windows Vista, Windows Xp
Panasonic DMC-L1 Firmware- Download (1.49MB)
Operating System(s):Mac OS X
Panasonic DMC-L1 Mac Firmware – Download (1.42MB)
Description for Panasonic DMC-L1 Firmware version 2.1:Enabled the Joint update service for Four Thirds lens. Ver.2.0:An instruction manual about DMC-L1K Firmware Update.Added a multiple exposure function.Added "panning mode"(MODE3) to the optical image stabilizer.Added a "low-angle" viewing mode that makes it easier to view the LCD display when the camera is held below eye level.Added feature that simplifies setting the aperture when using a lens without an aperture ring.Added two manual white balance settings to GUI. GUI design uses navigational cursor to easily select, and set, white balance (WB) to change the color temperature, or set the ISO sensitivity or flash.Time restriction for making changes was removed.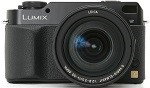 Added "HOLD" option to Auto Review time, enabling continuous viewing.Added feature to allow zoomed playback of photos. It's now possible to move back to the preceding images or forward to the next images while the image is still zoomed.Added [AUTO] for the ISO sensitivity in the aperture-priority AE mode [A] and shutter speed-priority AE mode [S].Added GUI option to easily check the firmware version.Improved the performance of AE(Auto Exposure) and AWB(Auto White Balance).