Panasonic Lumix H-FS014042 Camera Lens Firmware (Ver.1.1) and Software Download for Microsoft Windows and Macintosh Operating Systems.
Panasonic H-FS014042 Firmware Downloads
Operating System(s):Windows 8 and 8.1, Windows 7, Windows Vista, Windows Xp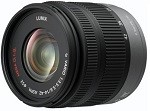 Panasonic H-FS014042 Firmware- Download (210KB)
Operating System(s):Mac OS X
Panasonic H-FS014042 Mac Firmware – Download (128KB)
Description for Panasonic H-FS014042 Firmware version 1.1:Enhanced stability of O.I.S.(Optical Image Stabilizer) in video recording.Reduced sound of auto focusing in video recording.This lens offers more comfortable HD video recording by improving the video recording performance with the firmware update.