Panasonic Lumix DMC-GH1 Digital Camera Firmware (Ver.1.3) and Software Download for Microsoft Windows and Macintosh Operating Systems.
Panasonic DMC-GH1 Firmware Downloads
Operating System(s): Windows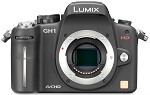 Panasonic DMC-GH1 Win Firmware- Download (3.81MB)
Operating System(s): Macintosh
Panasonic DMC-GH1 Mac Firmware – Download (3.70MB)
Description for Panasonic DMC-GH1 Firmware version 1.3:
Improved operation menu for image stabilizer ([OFF] will be added under [STABILIZER] only when LUMIX G VARIO 14-42 mm / F3.5-5.6 ASPH. / MEGA O.I.S. (H-FS014042) is attached).
Availability of AF performance in FHD (full HD) movie recording mode with Four Thirds lenses that are compatible with contrast AF.
Improved AF performance in movie recording with LEICA DG MACRO-ELMARIT 45mm / F2.8 ASPH. / MEGA O.I.S. (H-ES045).
Improved modulation accuracy of flash.
Improved AF (auto focus) performance with lenses of other manufacturer.