Panasonic Lumix DMC-GH2 Digital Camera Firmware (Ver.1.1) and Software Download for Microsoft Windows and Macintosh Operating Systems.
Panasonic DMC-GH2 Firmware Downloads
Operating System(s): Windows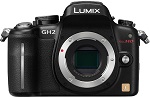 Panasonic DMC-GH2 Win Firmware- Download (15.61MB)
Operating System(s): Macintosh
Panasonic DMC-GH2 Mac Firmware – Download (15.59MB)
Description for Panasonic DMC-GH2 Firmware version 1.1: Click here to notice page about firmware update.Added a video mode [HIGH BIT RATE] which is suitable for editing video recorded at high bit rate(24Mbps).Added a function [POWER ZOOM LENS] when using power zoom lens.([DISP FOCAL LENGTH], [STEP ZOOM], [ZOOM RESUME], [ZOOM SPEED], [ZOOM RING]*).Full area enlargement of AF area setting.Improved in the speed of consecutive shooting when shot with auto bracket.Increased number of recordable images in consecutive shooting. [EX.TELE CONV. (Extra Tele Conversion)] can be set ON/OFF separately in photo or video recording.
More accurate light adjustment of built-in flash.Improved in the AF performance in video recording.Synchronization of alarm volume for low battery with [BEEP VOLUME].Added a function [HALF PRESS RELEASE]. Improved NR (Noise Reduction) in high sensitivity shooting.Added a function [TOUCH SCREEN] which is ON/OFF control of touch-screen.