Panasonic Lumix DMC-GH3 Digital Camera Firmware (Ver.1.2) and Software Download for Microsoft Windows and Macintosh Operating Systems.
Panasonic DMC-GH3 Firmware Downloads
Operating System(s): Windows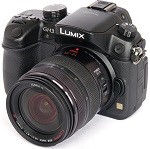 Panasonic DMC-GH3 Win Firmware- Download (26.69MB)
Operating System(s): Macintosh
Panasonic DMC-GH3 Mac Firmware – Download (26.59MB)
Description for Panasonic DMC-GH3 Firmware version 1.2:Go to the firmware update service notice page."Low Light AF" is added that makes it possible to set focus on the subject in low-lit situations(-3EV)."Silent Mode" is added which suppresses electronic shutter, shutter sound, operation sound and flash emission with a single setting."Exposure Comp. Reset" is added which resets the setting of exposure compensation to ±0 whenever the camera is turned off or the shooting mode is changed.Performance of AF is enhanced in use with H-PS14042 and H-PS45175.Connection problem with Apple Mac computers via Wi-Fi is fixed.