Panasonic Lumix DMC-GH4 Digital Camera Firmware (Ver.2.2) and Software Download for Microsoft Windows and Macintosh Operating Systems.
Panasonic DMC-GH4 Firmware Downloads
Operating System(s): Windows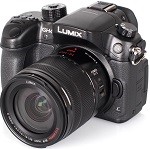 Panasonic DMC-GH4 Win Firmware- Download (38.52MB)
Operating System(s): Macintosh
Panasonic DMC-GH4 Mac Firmware – Download (38.41MB)
Description for Panasonic DMC-GH4 Firmware version 2.2:Go to the firmware update service notice page.[Anamorphic(4:3)] mode is available which optimizes the settings for 3328×2496 video recording with a 4:3 anamorphic lens.
To convert the footage to a cinemascope aspect for playback, corresponding software and device are required.
1/16000 sec shutter speed can be selected manually when using [Electronic Shutter].
Fixed the issue which video recorded in rec format AVCHD got misdated when imported to some editing software.